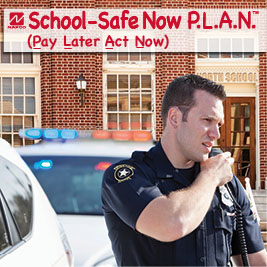 Especially in the wake of recent tragic events and escalating violence. NAPCO recognized the need not only for its proven technology solutions, but for helping schools more quickly afford and act to deploy them. That's why we recently introduced the unique Napco School-Safe Now P.L.A.N.™ (Pay Later Act Now) being rolled out to pilot schools nationwide. Now school administrators, school boards and school stakeholders can choose from a wide range of Napco school solutions for every school, construction and application, and get the buildings, students and staff secure now, deploying them asap, but paying later, when cyclical budgets allow.
Not only can we help advise you on the best solutions for your particular school with free consultation and onsite visit, but we'd love to discuss this easy program too. Let's discuss it, just click the red button below
NAPCO is proud of our established track record, securing top schools and universities, nationwide, offering a full range of security & access control solutions designed for education, but we also developed a Free and objective S.A.V.I.™ self diagnostic system for schools, to help them easily evaluate their own current security levels and vulnerabilities, and qualify best, next-steps to improve any school or campus' defenses.